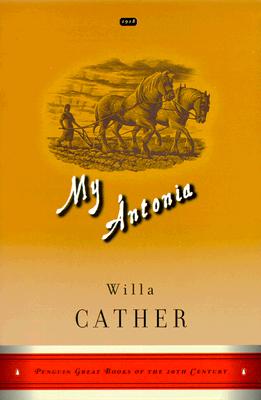 I'm not sure why we laughed so much during our discussion of this a stalwart body of classic literature, but apparently the sound of eleven women talking and laughing was disruptive enough that for the first time, one of the library staff had to come and close the meeting room door.
I first asked what we thought of the title, which led to a discussion on our confusion of the pronunciation. Carolyn said she had listened to it and the narrator said Antoni'a. Peggy recalled in the book the pronunciation was likened to Anthony, hence An'tonia. I notice on this book cover, it demonstrates the latter, which we never could get our eye teeth around. Kathy said we'd just call her Tony. Then they decided that it was the right title, even though she only appeared in three of the books five sections. That's what she was called by those near to her.
I was aware that Cather was considered to be a lesbian and felt that the character of Lena was a little autobiographical. We talked about how Cather's lifestyle might have influenced the females. The strongest male characters were in the first half of the book and largely absent in the second half. Even Jim Burden was undeveloped, though his connection to Tony we felt was likely to resume, perhaps in the form of an uncle. We felt the strongest male character was Mr. Shimerda, though not strong enough to not marry the "hired woman" he impregnated and not strong enough to stand up to her demands they move to American for a better life for Ambrosch.
We were all confused by Jim and Tony's relationship, wondering if it would become romantic, but as Carolyn pointed out, her being four years old was a big thing in the 19th century when people didn't live all that long. Kareen noted that the class difference was a huge barrier and her her pregnancy ended any possibility of a romantic connection. Joanne felt their friendship was sealed on the train and further when Jim taught her to read English. I was very confused by his declaration "I'd have liked to have you for a sweetheart, or a wife, or my mother or my sister - anything that a woman can be to a man."
We likened the conclusion of the book to that of So Big. The protagonist stays in her circumstances but rises above them. We felt that there would have been no more suitable and happy life for Tony than the one she had with Cuzak. We all were surprised that she would return to the daily use of Bohemian., and that led to a conversation about the Midwest and the communities who still identify themselves with their nationalities. I told of the TV show that Ian and I used to watch on RFDTV called the Polka Joe Show. It was broadcast from various Midwest locations where Polka is still huge and where songs are still sung in their own language. Jenny said they were visiting Hibbing, Minnesota where a huge polka festival was in full swing. She said she was astonished that people would travel that far to play poker. You have to realize that Jenny is a Brit and doesn't pronounce the 'er in poker. When she says poker it sounds like polka. That's the laughter that got our door closed.
We were of mixed opinions, but while many found the book a bit of a slog, I think we agreed that for a book published in 1918, it went against the conventional grain. Cather wrote strong women who were clear in their intentions and some chose to remain unmarried and pursue careers. A career then was for a woman to be a school teacher. Carolyn said when a woman married, she was no longer allowed to teach. We talked about possibly reading another one of Cather's books, but in the future. We've just read three prairie books in one list: So Big, Half Broke Horses and now My Antonia. We seem to cluster our books by accident so Kathy offered to help me with our list next year with little descriptive paragraphs. We were are talking about 2014 when we haven't started on 2013!
As always, this discussion is limited to my memory and we certainly covered a lot more ground than this. We're fixing to get ready for our Christmas meeting and potluck. The general consensus on our December book, The Prime of Miss Jean Brodie, is to watch the movie and appreciate Maggie Smith's Academy Award winning role as Best Actress. And a good time was had by all.