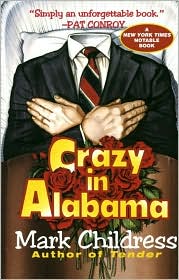 I believe this was the shortest discussion we've ever had on a book before. We enjoyed it but the consensus was that it was two books woven together and that they would have enjoyed reading them as two separate stories. I was the only one who felt that the antics of crazy Lucille helped make the harshness of the racism easier to read.
With the exception of Joanne, we wanted her to get away. Kathy said, after all - she had paid the judge, which made us laugh. Kareen pointed out the ending, which I had missed, and I thought was a fitting conclusion. She essentially threatened PeeJoe, reminding of what happened to the last man who said no to her.
Joanne was appalled that Lucille went scot free when Dove paid such a heavy price for the stand he took and the responsibility he carried. His wife left him, his daughter developed schizophrenic, he lost his house and business - everything. Kareen said she assumed when he sent the postcard saying he had gone fishing that it meant he intended to off himself.
The rest of our discussion had nothing at all to do with the book and I enjoyed it very much.